Night vision goggles and gear are becoming increasingly popular among outdoor adventurers, particularly those who enjoy hiking and camping trips. This article provides an overview of the various types of night vision goggles and gear available, as well as advice on choosing the right equipment to suit one's individual needs and preferences.
It also discusses some of the benefits and safety considerations to keep in mind when using night vision gear. Different night vision accessories are also examined, and the advantages and disadvantages of each are discussed in detail.
By the end of this article, readers should have a better understanding of how to select and use night vision goggles and gear for maximum effectiveness and safety.
→ Take some time to discover more about IR Illuminator in articles by Steele Industries:
– HOW TO CHOOSE AN IR LASER AIMING DEVICE FOR NIGHT VISION
– For more reading, visit our blog!
Contact:
-Call us at ​​(800) 674-7302
-E-mail: sales@steeleindinc.com
–Facebook/ steeleindustriesinc
–Instagram/steeleindustriesinc
Types of Night Vision Goggles
Night vision goggles come in a variety of types, each with its own specific characteristics and capabilities. Passive night vision goggles are the most commonly used and feature an image intensifier tube that amplifies existing light, making it possible to navigate in near total darkness.
Active night vision goggles use an infrared illuminator to make objects visible in near total darkness. Thermal imaging goggles use a thermal detector to detect differences in temperature, allowing for detection of objects in complete darkness.
Finally, digital night vision goggles use a combination of image intensification and digital technology to allow for better image clarity and contrast. All types of night vision goggles have their own unique advantages and disadvantages that must be considered when choosing the best one for a particular activity.
Choosing the Right Night Vision Gear
When searching for the ideal equipment for a nighttime excursion, it is important to consider the various features of night vision gear.
| | |
| --- | --- |
| Viewing Range | Illumination |
| Battery Life | Durability |
| Magnification | Water Resistance |
| Weight | Lens Quality |
Each of these features has its own advantages and disadvantages, which must be weighed against the user's individual needs and preferences.
Viewing range, for example, is an important factor in determining how far ahead one can see in the dark. Battery life is also a key factor, as it determines how long the device can be used before needing to be recharged. Magnification and lens quality are important for the clarity of the image. Weight is an important consideration for anyone traveling with the device, and must be balanced against the need for durability and water resistance.
Ultimately, the user's individual needs and preferences will determine the best night vision gear for their expedition.
Night Vision Accessories
When considering night vision gear, accessories are an important part of a successful night vision experience. Headlamps, flashlights, and IR lights should be considered when shopping for night vision gear. Each of these accessories has its own special purpose and can greatly improve the user's night vision experience.
Headlamps
Headlamps are an essential piece of gear for any hiking or camping trip, providing illumination in the darkness. They come in a range of sizes, styles, and power outputs, allowing hikers to choose the right light for their needs. The table below outlines some of the features available when selecting a headlamp:
| | | |
| --- | --- | --- |
| Feature | Low Power | High Power |
| Weight | Lightweight | Heavier |
| Beam Distance | Short | Long |
| Battery Life | Longer | Shorter |
| Cost | Lower | Higher |
Headlamps come with a variety of features, from adjustable beam angles and red-light modes to waterproof and dustproof construction. Higher power headlamps are typically more expensive, but provide a brighter, longer-reaching beam. Low power headlamps are often lighter and more affordable, but have shorter battery life and a shorter beam distance. Hikers should consider their needs when choosing a headlamp to ensure they have the right equipment for their trip.
Flashlights
Flashlights offer an alternative to headlamps for outdoor illumination, providing a powerful, focused beam of light in a compact form. Flashlights are designed to be handheld and provide a wide variety of beam angles and brightness levels. Many models feature adjustable focus, allowing the user to switch between a wide floodlight or focused spot.
They are also commonly outfitted with interchangeable lenses for different beam patterns and colors. Some flashlights are also designed to be waterproof and impact-resistant, making them well-suited for use in harsh outdoor environments.
Flashlights are powered by batteries, ranging from standard alkaline to rechargeable lithium-ion. It is important to select the right type of battery for the flashlight, as each type has its own power capabilities and charging requirements.
IR Lights
Infrared (IR) lights provide a form of illumination that is invisible to the naked eye, allowing users to remain unseen in low-light settings. IR light sources are commonly used in night vision devices and are often utilized in outdoor activities such as camping and hiking. They are beneficial for night navigation because they provide illumination without affecting the dark-adapted vision of the user.
Additionally, IR lights are more energy efficient than traditional flashlights, and they are less likely to be detected at a distance. While IR lights can be used for a variety of applications, they are most commonly used as a supplemental light source by hikers and campers. IR lights can be used to safely and securely illuminate paths, as well as provide a measure of security against wild animals.
In addition, IR lights can be used to signal for help in emergency situations. As such, they are an invaluable tool for hikers and campers looking to explore the outdoors safely and securely.
Benefits of Night Vision Gear
Utilizing night vision gear can provide enhanced visibility in low-light conditions, allowing for safe navigation of unfamiliar terrain in darkness. The benefits of night vision gear are clear:
Improved visibility in low-light conditions
Ability to detect potential threats before they are visible to the naked eye
Increased situational awareness
Reduced risk of stumbling over obstacles in the dark
Added safety while navigating unfamiliar terrain at night
Safety Considerations
When participating in activities in low-light conditions, it is important to consider the safety implications of using night vision gear. It is essential for the user to be familiar with the gear and be sure to use it properly to maximize its potential and safety.
Additionally, one must understand the limitations of the equipment and ensure that the environment is suitable for the use of night vision gear. For instance, bright lights or other intense sources of light can damage the night vision device. It is also important to consider the safety of others around you, as night vision gear can be disorienting for those not wearing them, which can lead to accidents.
Therefore, it is important to follow the proper safety protocols when using night vision gear. Furthermore, users may wish to investigate the available features of the night vision gear and choose a device that offers the best combination of features and safety.
A Few Night Vision Devices Steele Industries Offers
PVS-31A L3 2376+ FOM WHITE PHOSPHOR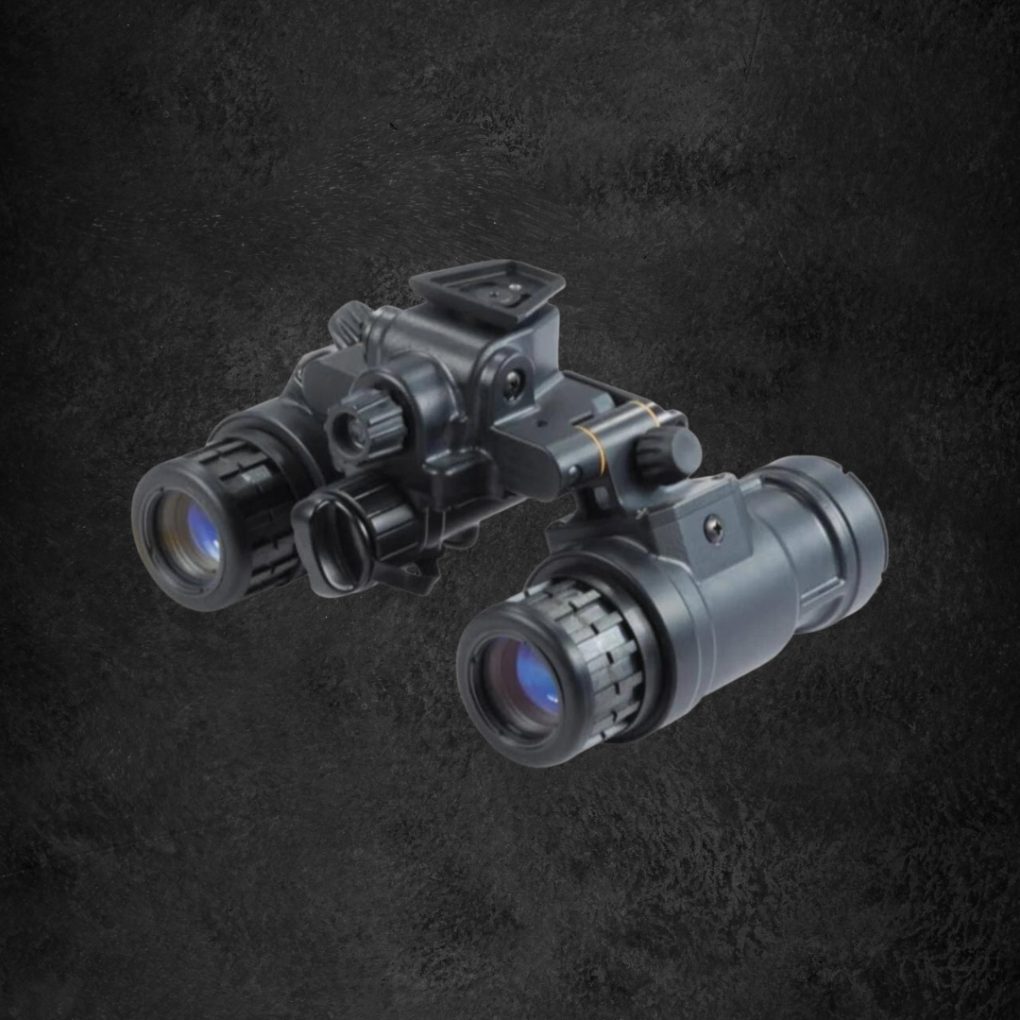 Description:
The AN/PVS-31A BNVD is a compact, lightweight, Gen III dual-tube goggle that features enhanced white phosphor tube technology for improved target detection and recognition. Low-light and nighttime operations appear more natural in black and white, providing the user with increased contrast and detail in shapes and shadows for better assessment and acquisition. White phosphor offers a range of intensity levels between black and white (compared to black and green), resulting in superior contrast and depth perception. This device has a sleek, ergonomic design and provides better situational awareness than single-tube goggles. Developed with feedback from SOF operators, the BNVD aims to enhance system resolution, significantly reduce head-borne weight, improve the center of gravity, offer increased operational utility, and promote overall situational awareness compared to traditional dual-tube goggles. The white phosphor BNVD is a successor to our proven AN/PVS-15 and AN/PVS-31 standard green phosphor night vision goggles.
DIMENSIONS: 4.2″ x 4.2″ x 3.4″
WEIGHT: 0.99 lbs (w/battery)
FINISH: Corrosion Resistant – Matte Black
POWER SOURCE: (1) AA Battery (On-Board) Or 4 AA Batteries (Remote)
BATTERY LIFE: >15 Hours (Single Battery) Or >50 Hours (4 Batteries)
WATERPROOF: 66′ For 2 Hours
SI/ PVS-14 L3 Unfilmed White Phosphor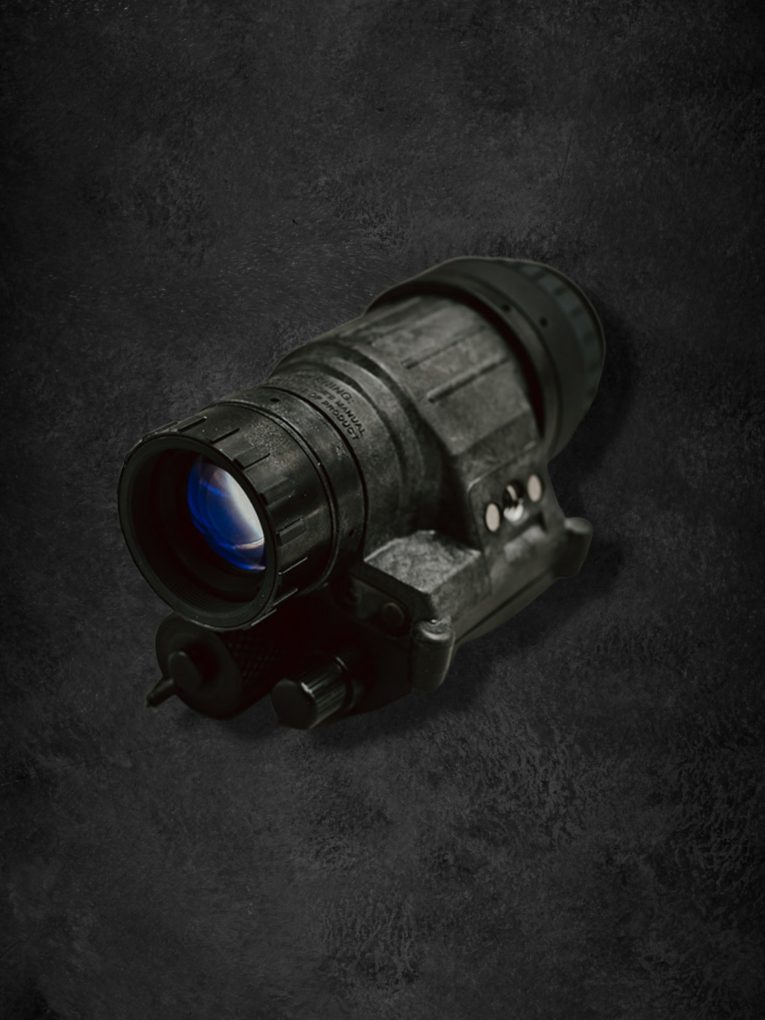 Description:
The L3 selection presents an Unfilmed White Phosphor option. We're delighted to make the L3 Unfilmed White Phosphor PVS-14 available to our clients!
*Tube images displayed on the Hoffman ANV-126A are for representation only and may not accurately capture all lighting conditions, speckling, or spots visible to the end users*
Frequently Asked Questions
How long do night vision goggles last?
The longevity of night vision goggles varies depending on the type of device and its maintenance. Generally, they can last up to 10 years with proper use and care.
Are night vision goggles water resistant?
Night vision goggles are generally designed to be water-resistant, though the degree of protection can vary from model to model. Generally speaking, the higher-end models offer higher levels of water resistance.
Are night vision goggles safe to use?
Night vision goggles typically utilize infrared technology, which is safe to use and does not emit harmful radiation. They are also designed to be lightweight and comfortable, making them suitable for extended use.
Are night vision goggles expensive?
Night vision goggles can vary significantly in price, depending on the features and quality of the product. Generally, more advanced goggles tend to be more expensive, but some basic models are available at a relatively low cost.
Are night vision goggles easy to use?
Night vision goggles vary in complexity, but many models are designed to be easy to use. They typically feature buttons or knobs that allow the user to adjust settings, such as brightness and magnification, and some models even come with a manual for further instructions.
Conclusion
Night vision goggles and gear provide hikers and campers with a great way to safely navigate the outdoors during low-light conditions. There are many types, accessories, and considerations to take into account when selecting the right gear.
By investing in quality night vision goggles and gear, users can benefit from improved safety and enhanced visibility during night time adventures. With the right knowledge and understanding, night vision gear can be a great addition to any outdoor excursion.