Night vision technology has become increasingly popular in recent years, making it easier for users to see in dark environments. Advanced users of night vision technology may want to consider investing in various accessories to enhance their experience. These accessories can range from batteries to weapon mounts and tripods.
This article will discuss five essential accessories for advanced night vision users, including infrared illuminators, weapon mounts, goggles, batteries, and tripods. Each of these accessories has unique features that can improve the night vision user's experience and provide better visibility in dark environments.
Overall, these accessories can help advanced night vision users achieve better visibility and performance.
Take the time to browse through our assortment of articles !
–NEW TO NIGHT VISION? HERE'S HOW TO BUY NVG EQUIPMENT AND GET THE BEST VALUE
–HELMET-MOUNTED NIGHT VISION PRODUCTS: WHICH HELMET IS RIGHT FOR YOU?
–HELMET NIGHT VISION 101: BASICS AND WHAT TO KNOW
–BEST IN THE US: NIGHT VISION DEVICES AND SERVICE THAT CAN'T BE BEAT
-And more, visit our blog
⇒ Contact us:
-Call us at ​​(800) 674-7302
-E-mail: sales@steeleindinc.com
–Facebook/ steeleindustriesinc
–Instagram/steeleindustriesinc
Infrared Illuminator
An infrared illuminator is an essential accessory for advanced night vision users, providing the necessary light to navigate low-light environments. Infrared illuminators are especially important for seeing in complete darkness, as they use infrared light which is not visible to the human eye.
These devices typically emit invisible light in the 850nm to 950nm range and are used to enhance the performance of night vision devices. The illuminator can be attached directly to the device or set up as a free-standing unit. Infrared illuminators are available in a variety of models, which vary in terms of the range of light that is emitted, the power source used, and the type of lens used.
In addition, some infrared illuminators feature adjustable brightness settings, allowing users to tailor the amount of light they require.
Weapon Mounts
Equipping one's weapon with a mount for night vision accessories is a necessary step for the more experienced operator. Weapon mounts provide a secure platform for the user to attach vision accessories including lights, lasers, and cameras, allowing for maximum advantage in low-light operations. They are designed to be adjustable, allowing the user to customize the angle of the accessory and make minor adjustments when needed.
Mounts are available in both Picatinny and Weaver rail styles, and can be equipped with optional locking levers for extra security. Furthermore, many mounts are designed to be robust and lightweight, ensuring that they can withstand the rigors of combat without adding undue weight to the weapon.
In conclusion, weapon mounts are an essential accessory for any night vision user, providing a secure platform for mounting accessories and allowing the user to customize the angle of the accessory.
Goggles
Goggles are essential night vision accessories for advanced users, providing a number of benefits. They are designed to fit comfortably and securely on the head, and provide a clear, wide-angle view of the surrounding environment.
There are two main types of goggles available: monocular and binocular. Monocular goggles provide a single eye view, while binocular goggles provide a stereoscopic view from both eyes. Both types of goggles offer great visual clarity and improved depth perception.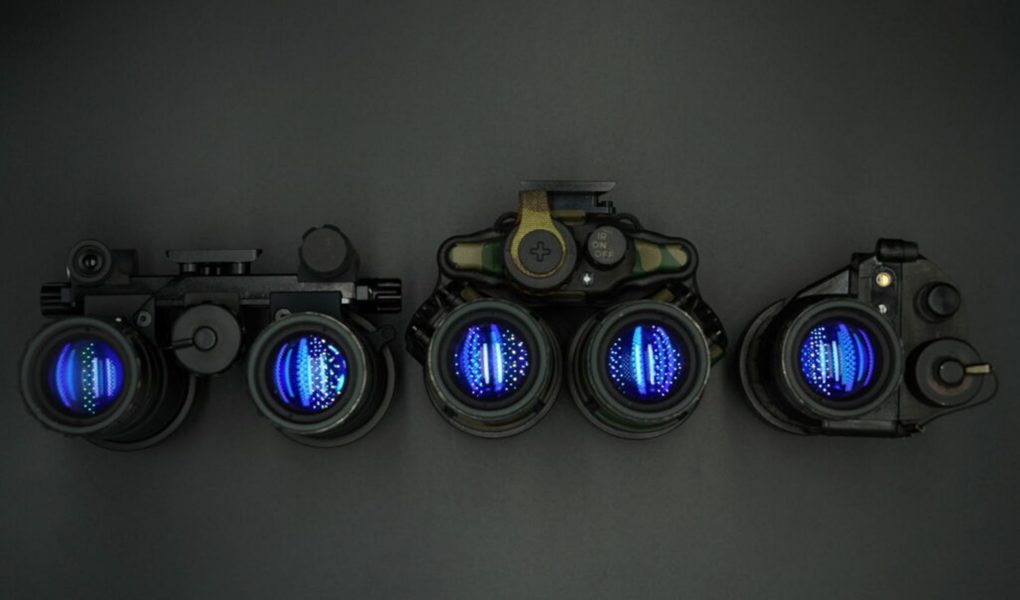 Benefits of Goggles
Utilizing goggles for night vision can provide users with an enhanced capacity to view their environment. Goggles offer a range of benefits, including:
Enhanced clarity, even in very low-light environments
Increased field of view, allowing for more efficient scanning of the environment
The ability to see in complete darkness
The capability to detect subtle changes in light, such as the presence of a distant fire
Comfort and protection for the eyes, even in harsh conditions
Types of Goggles
Goggle designs vary widely to suit the needs of different users. Monocular goggles are lightweight and compact, providing excellent comfort for long-term use. Binocular goggles offer a wider field of view, allowing users to better observe the environment. Goggles with night vision devices are designed to improve vision in low light conditions, typically using infrared light.
Some goggles include image intensifier tubes, which amplify the available light, allowing users to observe more details in a given environment. Thermal imaging goggles are also available and provide a clearer view of the environment in total darkness.
Finally, digital night vision goggles are the most advanced option, providing high-resolution images and videos even in low light conditions.
Batteries
Powerful night vision goggles require reliable and long-lasting batteries to ensure that users can rely on them in low-light circumstances. The most common type of battery used for night vision goggles is a lithium-ion battery.
Other types of batteries that can be used are nickel–metal hydride, nickel–cadmium, and alkaline. Here are four key features to look for when selecting batteries for night vision goggles:
Capacity: The battery's capacity should be high enough to provide the necessary power to the night vision goggles.
Temperature Range: Night vision goggles should be able to work in a wide temperature range. Therefore, the battery should be able to withstand extreme temperatures.
Rechargeable: Rechargeable batteries are more cost-effective and eco-friendly.
Durability: Night vision goggles should have durable batteries that can last for a long time.
Tripods
Tripods provide a stable foundation for night vision goggles, enabling users to maximize their experience with the device. They come in various sizes and styles, and their main purpose is to support the weight of the goggles. Tripods are designed to be adaptable and can be adjusted to fit the user's height and preferred viewing angle.
Tripods also provide a more comfortable and ergonomic way for the user to use their device, as it allows the user to use both hands without having to hold the device up. A good tripod also helps to reduce fatigue, as they provide a stable base for the user to use. Tripods often have adjustable legs, allowing the user to adjust the height and angle of the tripod to fit their preferred viewing angle.
Additionally, some tripods come with a built-in illumination system, allowing users to get an even better view of their night vision goggles.
Some Night Vision Devices Steele Industries Offers
AB Night Vision RPNVG – Ruggedized Panning Night Vision Goggle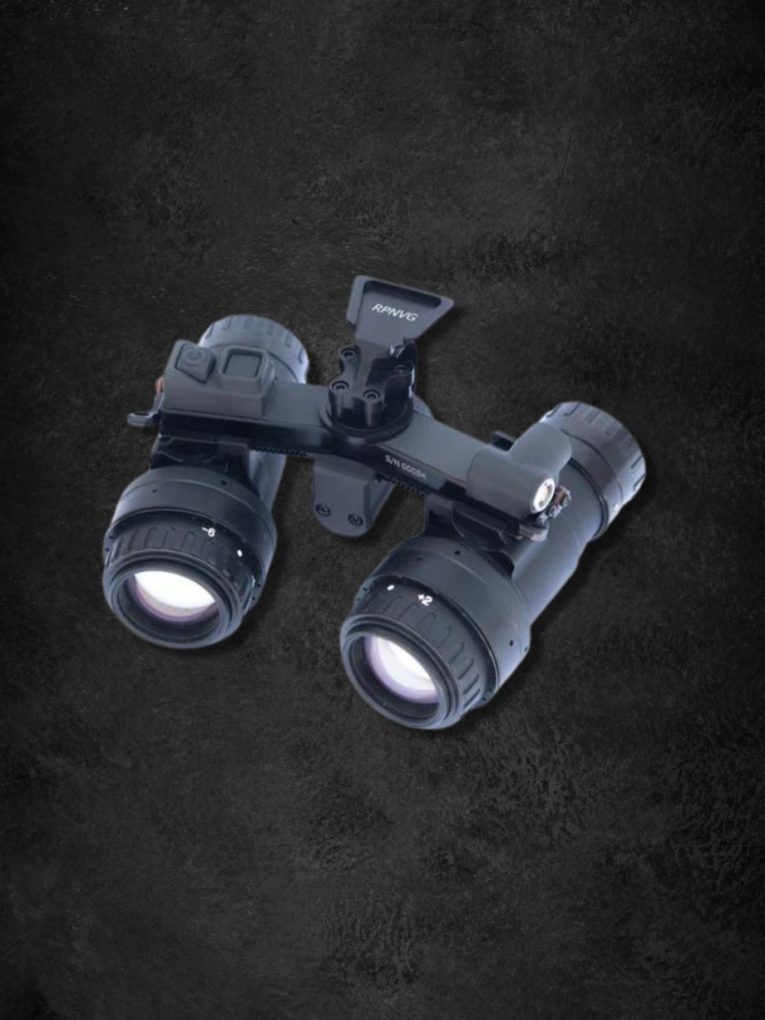 Description:
Our SI/RPNVG is constructed with the latest production Elbit Systems of America, L3Harris generation 3 image intensifier tubes, and now also includes Photonis Imaging Tubes. The base model, featuring Photonis Echo WP, a commercial spec tube, starts at $7,299.98. We also offer the popular Elbit White Phosphor option, with a more budget-friendly starting price of $8,299.98. Furthermore, we provide L3Harris image intensifiers at a price of $9,899.98.
The RPNVG is powered by a single CR123A battery and includes an auxiliary LEMO port for compatibility with battery packs, such as the AB Night Vision Inc Ground Optimized Battery Pack. This goggle also boasts interpupillary adjustment points, enabling users to align the pods with their eyes perfectly. The pods feature a push-button system design for easy adjustments.
We encourage all end-users to participate in the assembly process by offering a FREE HAND SELECTION. If you'd like to be involved in selecting the minimum specifications for your unit, please include your preferences in the order notes, or write "hand select" to request a call from our team when your build queue is up. We'll gladly assist you in hand-selecting your image intensifier at no additional cost.
DIMENSIONS: 4.7″ x 4.2″ x 2.8″
WEIGHT:621G w/Battery
FINISH: Anodized Matte Black
POWER: One (1) CR123 3v Battery, External Battery Pack
BATTERY LIFE: Approx. 30 Hours at Room Temp.
WARRANTY: 10 Year Warranty & Limited Life Time Service
GATE: Auto
GAIN: Automatic Gain Control
FOV: 40º – Variable
OBJECTIVE LENS: F/1.2
DIOPTER: +2 to -6
FOCUS: 9.8″ to Infinity
BASIC KIT: SI/RPNVG, SI/Lens Pen, Warranty Registration, Quality Check Report, Hardcase, Factory Spec Sheets
EoTech CLIPNV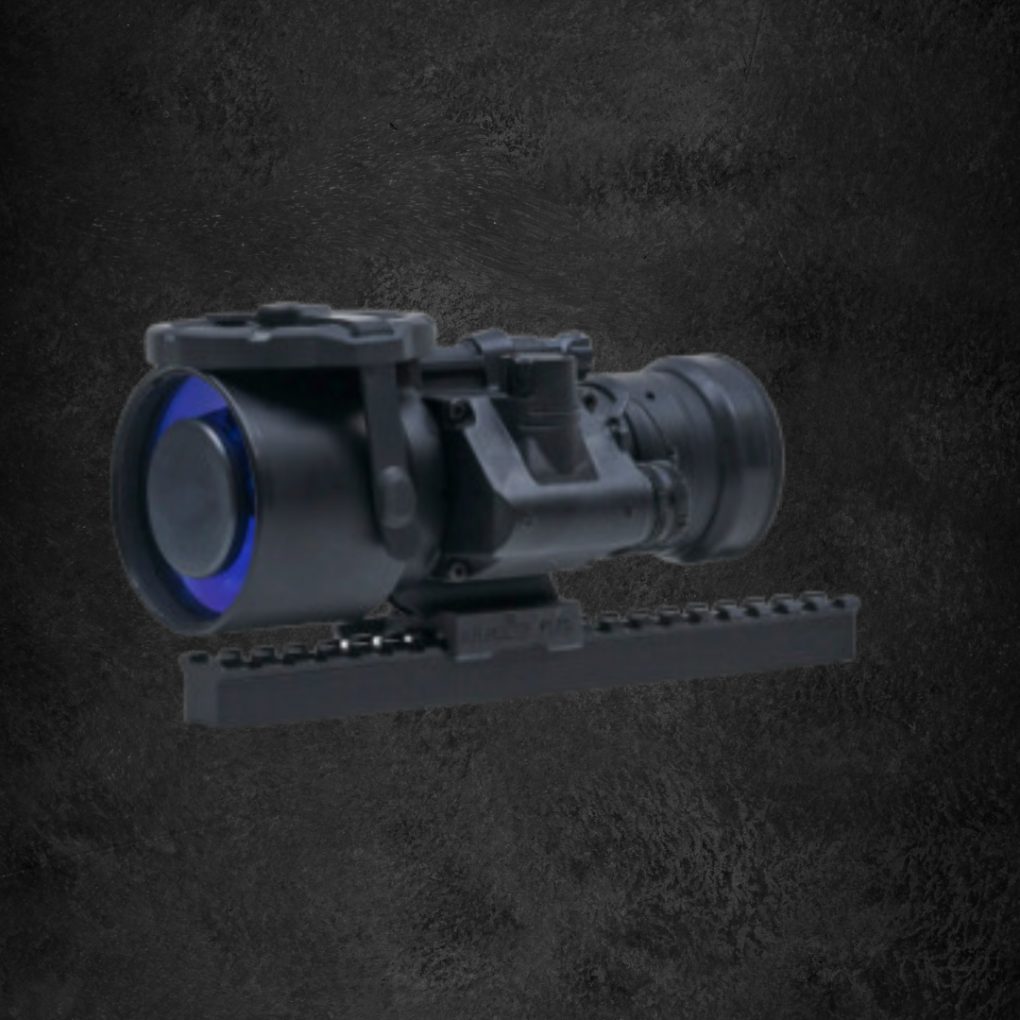 Description:
The EOTECH® ClipNV is a cutting-edge clip-on Night Vision device designed to offer users exceptional target detection and identification capabilities when mounted on a rifle. Engineered for compatibility with low to medium power (1-12X) magnification day sights, the ClipNV enables night targeting while preserving the day optic's ballistic zero. User-friendly ON/OFF, Manual Gain Control, and Focus knobs are conveniently positioned on the device. It easily attaches to Picatinny (1913) rails and features an integrated auxiliary Picatinny rail for mounting accessory equipment like IR illuminators or designators.
FEATURES:
Rugged, compact, lightweight, and MIL SPEC
Constructed from aircraft-grade aluminum
Enhances existing day optic with night vision capability
Ideal for use with 1-12X day optics
Rated for .50 caliber
Effortless mounting on 1913 rails without requiring zeroing
Auto-gated power supply includes an automatic highlight cut-off system to protect the image intensifier tube and enhance resolution in bright environments
Omni-directional battery operation
Low battery indicator visible through day sight
Manual gain control
Frequently Asked Questions
How do I choose the right night vision device for my needs?
When selecting a night vision device, it is important to consider the user's experience level, the intended purpose, and the available budget. Factors such as magnification, field of view, eye relief, and waterproofing should also be taken into account. Additionally, research should be done on the quality and durability of the device.
Are night vision accessories compatible with all types of night vision devices?
Night vision accessories vary in compatibility depending on the type of night vision device used. Generally, accessories are designed to be compatible with specific models, brands, and generations. It is important to read product descriptions and specifications to ensure compatibility.
Are there any safety precautions I should take when using night vision accessories?
When using night vision accessories, it is important to take safety precautions. Eye protection should be worn to minimize risk of eye damage due to light exposure. Additionally, the device should be operated according to the manufacturer's instructions for safe usage.
How long do night vision accessories typically last?
Night vision accessories typically last several years, depending on how they are used and maintained. Regular preventative maintenance and careful handling can help prolong the life of the product.
Are there any extra accessories that can improve the performance of my night vision device?
Night vision devices can be improved by additional accessories such as infrared illuminators, infrared laser rangefinders, and high-capacity batteries. These can increase the range, clarity, and duration of the device's performance.
Conclusion
Night vision technology is an invaluable tool for advanced users. To get the most out of the technology, it is important to have the right accessories, such as infrared illuminators, weapon mounts, goggles, batteries, and tripods.
With the right accessories, users can achieve optimal performance with their night vision units, and take advantage of the enhanced capabilities that the technology has to offer. By having the proper selection of accessories, users can enjoy the benefits of night vision technology and be better equipped to navigate the dark.