⇒ Wilcox Mounts are the ultimate night vision goggle mounting solution. These mounts provide a secure and comfortable way to mount NVGs to any type of helmet without sacrificing performance or eye relief. With its unique design, Wilcox Mounts offer superior stability and strength that is unmatched by other solutions on the market.
⇒ In addition, they come in several sizes and configurations to fit anyone's needs. This article will explore how these mounts can improve your night vision experience.
⇒ Wilcox Mounts have been designed with comfort and ease of use in mind; their innovative design makes them quick and easy to install. The adjustable tension knobs allow you to customize the amount of pressure needed for optimal performance – ensuring a snug fit no matter what type of headgear you're wearing.
⇒ Additionally, their low profile construction ensures zero interference with peripheral vision while providing an unobstructed view ahead – allowing you to stay safe when operating at night!
→ Don't miss the opportunity to explore our wide selection of articles!
–TROUBLESHOOTING YOUR NIGHT VISION DEVICE
–NIGHT VISION MYTHS VS. REALITY: DEMYSTIFYING THE HOLLYWOOD HOOPLA
–HUNTING WITH A NIGHT VISION DEVICE: YOUR QUESTIONS, ANSWERED
–NIGHT VISION COMPATIBILITY WITH RED DOT SIGHTS
-And more, visit our blog
→ Visit our different categories!!
NIGHT VISION MOUNTS & ACCESSORIES
Contact us:
-Call us at ​​(800) 674-7302
-E-mail: sales@steeleindinc.com
–Facebook/ steeleindustriesinc
–Instagram/steeleindustriesinc
Benefits Of Wilcox Mounts
Wilcox mounts provide an unbeatable night-vision goggle mounting solution. They are designed to fit securely on any helmet, and the adjustable straps ensure that your goggles stay in place no matter what you're doing.
With Wilcox mounts, you can enjoy hands-free operation when using your night vision goggles – perfect for hunting or other outdoor activities. The construction of Wilcox mounts is top notch too – they're made from high-grade materials with superior strength yet still lightweight enough to keep your head comfortable.
Plus, their unique design helps reduce fogging so you won't have to worry about losing visibility at critical moments. All in all, Wilcox mounts make it easy to use your NVGs without sacrificing comfort or performance.
Features Of Wilcox Mounts
Envision a world of darkness, illuminated only by the faint light of your Wilcox Mounts. The ultimate night vision goggle mounting solution provides you with an unprecedented level of clarity and security in dark environments.
With its lightweight construction, durable material, and secure fit, this mounting system ensures that you will always be able to see what lies ahead – no matter how dark it may seem.
The intuitive design of Wilcox Mounts allows for quick installation and removal without tools; ensuring maximum operational efficiency when transitioning between areas or tasks. Additionally, its low profile makes it ideal for tactical use while still providing optimal stability and performance.
All these features make Wilcox Mounts the perfect choice for any situation where visibility is key to success.
Versatility Of Wilcox Mounts
Wilcox mounts offer unparalleled versatility when it comes to night vision goggles. With a variety of mounting solutions, users can easily customize their equipment for any situation or environment.
Wilcox mounts are designed to securely attach NVGs to helmets, weapon systems, and other standard military hardware items like MICH/ACH and PASGT Helmets as well as Maritime helmets. They also can mount onto non-standard helmet configurations such as PRR (Personal Role Radios) as well as many airsoft/paintball masks on the market today.
The fact that these mounts are built with both durability and weight in mind makes them ideal for long-term use without sacrificing comfort or performance. Furthermore, they're highly adjustable so you can quickly make changes depending on your current mission or operations.
You don't need tools either; simply adjust the tensioning nut by hand! All this adds up to an outstanding product that won't let you down in even the most challenging situations.
Security Of Wilcox Mounts
It's time to discover the security of Wilcox Mounts! With these state-of-the-art mounts, you can be sure that your night vision goggles are securely fastened no matter what kind of terrain or environment you're in.
They feature an innovative locking system that ensures that they won't come loose during operation, allowing you to focus on the task at hand without worrying about them slipping off or shifting while in use.
In addition, they offer a secure fit with adjustable straps so that you get the perfect fit for your head and face shape every time.
And best of all, they are easy to install and remove when needed – making it simple to switch between different heads-up displays as needed.
So if you need reliable mounting solutions for your night vision gear, look no further than Wilcox Mounts.
Wilcox L4 G24 Mount By Steele Industries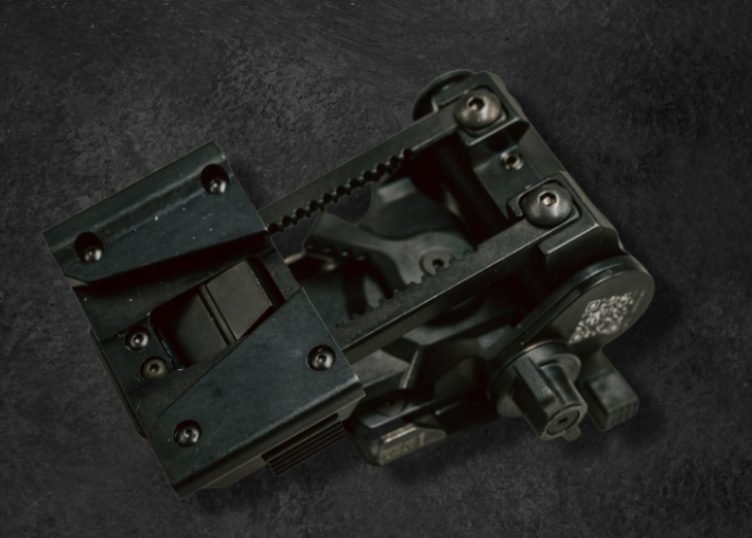 Description
-The Wilcox L4 G24 Mount is a sturdy platform designed to connect with various NVGs and attach to MICH/ACH helmets via an Ops-Core VAS or standard Army shroud. This mount has a breakaway feature that allows it to detach from the base during high-stress situations, such as fast roping, maritime operations, or hard impacts, to minimize the risk of neck injuries and NVG damage.
-The Wilcox L4 G24 product line provides ample adjustments to customize the NVG position for optimal eye placement and maintain a low profile on the helmet. It is made of lightweight aerospace aluminum and polymer materials.
-This mount has a 0.900″ total vertical travel for height adjustment, 130º travel for a view to stow, 0-15º tilt for finite tilt, and 1.400″ total fore/aft travel. It also features auto on/off capability with Wilcox metal interface shoes.
-The L4 G24 mount accommodates AN/PVS-7A, AN/PVS-7C (direct mount), AN/PVS-7B*, AN/PVS-14*, AN/PVS-15*, AN/PVS-18*, AN/PVS-21*, BNVD*, and BNVD-G* (with Wilcox interface shoe).
Wilcox Industries offers a lifetime warranty for this product.
Wilcox AN/PVS-14 Arm By Steele Industries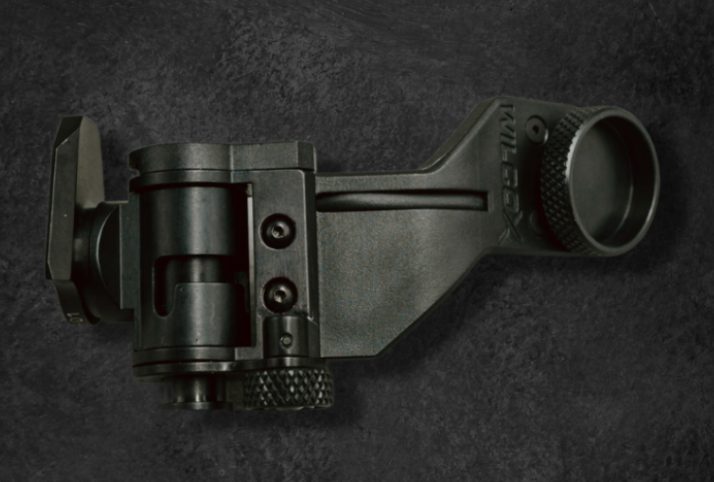 Description
The Wilcox AN/PVS-14 Arm with NVG Interface Shoe enables secure attachment of an AN/PVS-14 goggle to a Wilcox Combat Helmet Interface Mount. This arm can be quickly attached and detached from the AN/PVS-14 using a thumb screw, and offers the operator the flexibility to adjust the height and angle for optimal comfort. Fine adjustments can also be made to the arm to ensure proper eye position and relief of the Night Vision Goggle.
Conclusion
In conclusion, Wilcox Mounts are the ultimate night vision goggle mounting solution for anyone who requires reliable, versatile, and secure equipment for outdoor activities, hunting, military operations, and other low-light environments. These mounts provide a comfortable and secure way to mount NVGs to any type of helmet without sacrificing performance or eye relief. Their lightweight construction, durability, and superior strength make them the perfect choice for any situation where visibility is crucial.
Additionally, their innovative design allows for quick and easy installation without the need for tools, making them highly versatile and adjustable. With their unbeatable features and benefits, Wilcox Mounts offer users an unparalleled night vision experience that cannot be found elsewhere on the market.